Injectable Facial Fillers
In your face, round and smooth contours are a sign of health and vitality. Loss of facial volume, sagging tissues, thinning lips and new lines or folds in the face are characteristics of aging. In studies of identical twins, observers rate the twin with rounder facial appearance as looking younger. The new generation of facial injectable fillers allows us to restore fullness and vitality to your face, as well as your chin and cheeks, during a simple office visit.
Safe, effective and long lasting results can be obtained from any of the three commonly used categories of facial fillers: Hyaluronic Acids (Restylane, Juvederm, Beletero), Calcium Hydroxylapetite (Radiesse) or Poly-L-Lactic Acid (Sculptra). The products each have slightly different indications, injection techniques, duration of action and cost. Dr. Khosh has had extensive experience with each product, which allows him to discuss the most appropriate product choice based on your particular needs.
The full line of injectable facial fillers available through Dr. Khosh include:
Injectable Neuro-Modulators
Neuro-modulators are terrific, long-lasting, office-based treatments that erase wrinkles and frown-lines in the forehead and upper face. Frown lines in the forehead and wrinkles around the eyes develop from over activity of the underlying facial muscles. These injectable medications act as immobilizers that keep the muscles from contracting and forming the lines and wrinkles. Dr. Khosh offers the following neuro-modulators:
In addition to facial fillers and neuro-modulator injectables, Dr. Khosh also offers fat dissolving injections. These are used to break down fat under the chin. The brand available through Dr. Khosh's office is Kybella.
Injectables and fillers can help reduce the signs of aging and improve many common facial issues that can detract from a person's natural beauty. For more information on these products, contact us today to schedule a consultation with Dr. Khosh to see if any of them are right for you.
Case Studies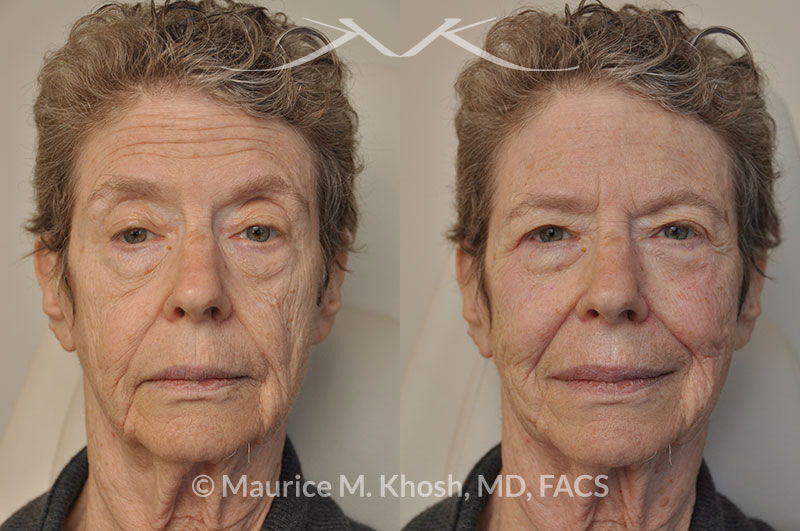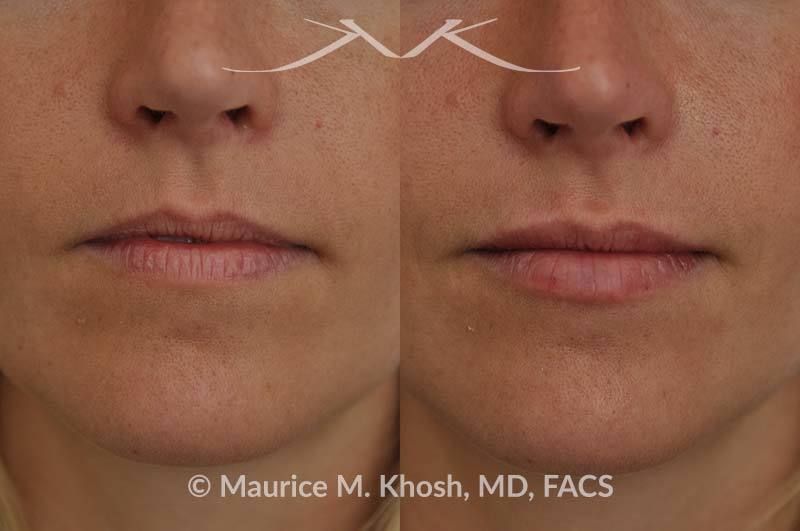 Disclaimer: These are actual results for patients of Dr. Maurice Khosh. Plastic and cosmetic surgery results can vary between patients.
Frequently Asked Questions About Fillers
There is minimal discomfort from injection of facial fillers. In our practice, we minimize that discomfort by applying numbing cream to the face prior to injection. Some of the available facial fillers have anesthetic as an ingredient.

Bruising rarely happens as a result of facial filler injection. We recommend that patients refrain from using Aspirin, Motrin, Advil, or related products to minimize the risk of bruising. The supplement Arnica-Montana, taken by mouth, can help resolve any bruising. Additionally, makeup can be worn immediately after the injections.

Dr. Khosh will help you choose the best facial filler based on your physical anatomy and desired aesthetic outcome.

You may want to avoid heavy exercise immediately following the injection. However, you may resume full physical activity after several hours.
Related Procedures
Filler injections add volume and erase lines and depressions that develop in your face as a result of aging. Other cosmetic treatments can be performed to enhance your aesthetic results. Fractional laser treatments are a wonderful way of refreshing the facial skin tone and color, and erasing patchy discolorations. Botox treatments can help erase fine lines around the eyes and the forehead. Neck liposuction will rid you of unwanted fullness in the neck. Blepharoplasty will remove skin redundancy and heaviness in your eyelids. In select patients, a facelift operation will be significantly more effective than repeated injections of facial fillers. During a consultation visit, Dr. Khosh will review any appropriate procedures that can help you achieve your cosmetic goals.

Click Here to See Botox, Facial Fillers, Fat Transfer Photo Gallery