Facial Paralysis Treatment
Facial paralysis is a devastating problem that can arise from a number of different medical conditions, such as stroke, cancer treatment, trauma or complication of ear surgery. Facial paralysis can be temporary or permanent, mild or severe and may involve a segment or the entire face. Outside of the cosmetic concerns, paralysis of the face will result in the inability to move the brow or close the eye and significant difficulty with speech and swallowing. Patients who suffer from facial paralysis can become withdrawn and depressed. If not treated properly, individuals can suffer from visual loss secondary to eye injury and malnutrition due to swallowing problems.
Management of facial paralysis will depend on the severity of the weakness, expected degree of recovery and extent of facial involvement. When paralysis is expected to be temporary, conservative measures such as eye lubrication and speech and swallow therapy will suffice. If the paralysis is likely to be permanent, facial surgical maneuvers are often necessary to protect the eye, allow for better lip function, elevate or suspend the face, or possibly restore natural facial movement.
Cosmetic Surgery for Facial Paralysis
Cosmetic surgical techniques such as brow lift or facelift will help elevate or suspend droopy facial muscles and skin. Eyelid paralysis is treated with a simple procedure known as gold-weight placement where a thin wafer of gold is placed in the upper eyelid to help close it. Static mouth closure can be achieved with slings from the cheekbone to the corner of the mouth. Alternatively, a muscle transfer from the temple to the corner of the mouth (temporalis muscle transfer) can allow dynamic mouth closure. More functional rehabilitation of facial paralysis can be achieved with nerve transfer from the tongue or a nerve transfer from the opposite side of the face (hypoglossal-facial nerve transfer or cross facial nerve transfer). Simple office treatments with Botox can help fine tune minor persistent facial asymmetries.
Dr. Khosh is an expert in surgical treatment of facial paralysis. He works closely with other providers such as neurologists, ophthalmologists, speech and swallow therapists and cancer or ear surgeons to deliver comprehensive and timely care to patients who suffer from facial paralysis. Please contact us for a private consultation should you or a loved one suffer from an acute or old facial nerve dysfunction.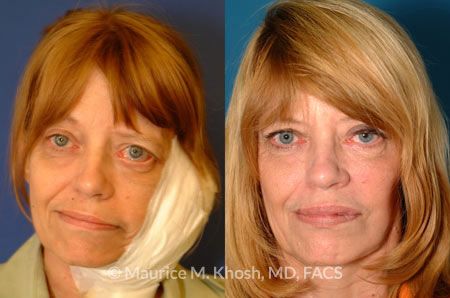 Frequently Asked Questions
Bell's palsy is another name for facial paralysis of unknown origin. Bell's palsy is the most common cause of facial paralysis. Other causes of facial paralysis include: stroke, trauma, tumors affecting the facial nerve, or infections such as Lyme's disease or syphilis.

Eye protection is the most pressing problem for individuals with facial paralysis. Facial paralysis results in an inability to close the eye. The eye may become dry, painful, and infected. In worst-case scenarios, vision may be affected. The number one goal is allowing adequate eye closure and keeping the eye surface moist.

Recovery in facial paralysis is dependent on the original cause of the paralysis. Patients with Bell's palsy, have an excellent prognosis, especially when treatment with steroids is started in timely manner. Paralysis due to infections has a good prognosis once the infection has been effectively treated. Facial paralysis due to nerve disruption either from trauma or cancer is permanent. In these cases, nerve grafts or nerve transpositions can have a highly functional effect, when instituted within one year of the onset of paralysis.

This depends on the type of procedure involved. Small procedures such as gold weight placement in the upper eyelid can be done under local anesthesia. More complicated procedures such as facial nerve grafts, temporalis flaps, brow lift, or facelift surgery require sedation of general anesthesia in an operation room.
Related Procedures
Treatment of facial paralysis often involves a combination of procedures aimed at improving both function and aesthetics of the face. There are a variety of "cosmetic procedures" that have a functional role in patients with facial paralysis. These include: facelift surgery, brow lift, blepharoplasty, and Botox injections.
Click Here to See Reconstructive Photo Galleries