Chin Implants
The chin is an important part of the facial structure that defines the shape of your face. In some individuals, the chin may be smaller or set farther back beneath the mouth, creating an imbalance in the facial features. A chin implant or cheek enhancement can balance the face, giving a more appealing profile for both men and women.
Chin implants are inserted on top of the chin bone, becoming an extension of the structure already in place. When healed, the implant feels just like part of the chin, making it indistinguishable from the permanent bone. For many, this addition to the bottom portion of the face have a dramatic effect, creating symmetry and balance for all the facial features.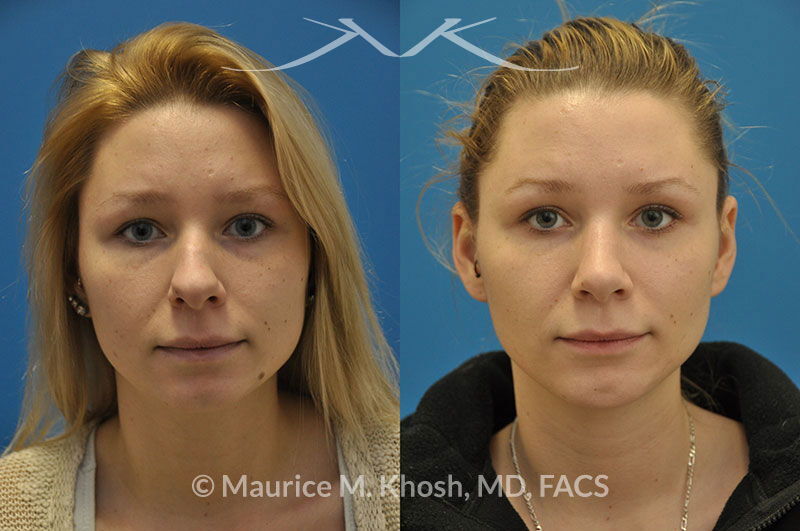 Chin Enhancement Surgery
Chin enhancement surgery or genioplasty is performed under anesthesia, usually with the implant inserted through a small incision under the chin. The normal crease in the area makes the incision easy to hide and virtually undetectable. Often chin implants are combined with neck or face lifts in older adults who are trying to improve their overall youthful appearance.
Both men and women can benefit from the addition of a chin enhancement. For men, it can add a more masculine appearance for those with a weak or less predominant chin or jaw line. For women, it can make them look less "bird-like", balancing the top and bottom regions of their face.
Dr. Khosh is an experienced facial plastic surgeon who has focused his practice on the facial region exclusively. As a dual board certified surgeon, you can trust in his proven ability to create a beautiful new chin through artful genioplasty. Dr. Khosh offers individualized custom made chin implants as well as the choice for a variety of prefabricated implant in different size and contours. During your consultation appointment, Dr. Khosh will discuss the best implant choice with you and help you select the implant that will result in the most elegant and natural appearing outcome. Contact our office today to schedule your private consultation to learn more about chin implants.
Click Here to See Chin and Cheek Implants Photo Gallery