Ear Pinning Surgery or Otoplasty
There are many reasons for wanting to change the shape of your ears. Whether you feel your ears are protruding, misshapen or abnormally-sized, your perception of your ears can be a source of self-consciousness and overall discontent. Otoplasty or ear reshaping is an ear surgery that allows correction of these ear abnormalities, including ear pinning for protruding ears.
Ear Pinning Surgery
In otoplasty or ear pinning for protruding ears, Dr. Khosh begins by making an incision in the back of the ear. Stitches are then placed to cause the cartilage to bend, and the incision is closed. In individuals with one protruding ear, the stitches are adjusted so that the auricle matches the other ear. In the case of bilateral protruding ears, Dr. Khosh is able to adjust the stitches so that the ears are symmetric and naturally curved.
Additionally, ear cartilage can be shaved to move the ear closer to the scalp. Other variations of otoplasty allow reducing the size of the ears. Dr. Khosh understands the varying needs and desires of his patients. Therefore, he approaches each otoplasty with creativity and artistry, carefully catering to your particular and individual needs and cosmetic goals.
Dr. Khosh recommends against operating in children who are younger than five, as the ear cartilage continues to grow until a child reaches that age. Surgical results are more reliable when the ear is fully grown. Contact us today to schedule a consultation with Dr. Khosh or for more information about this type of procedure.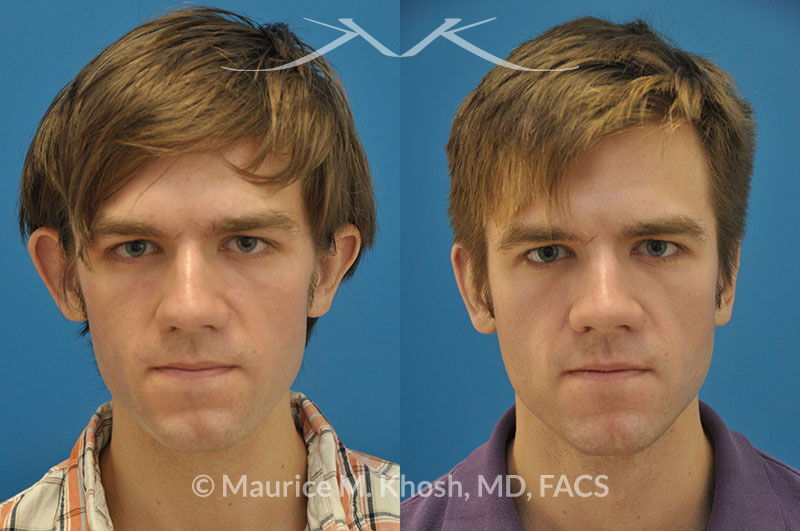 Frequently Asked Questions
Good candidates for otoplasty are older than five years, and have unilateral or bilateral protuberant, asymmetric, elongated or enlarged external ears.

The ears are wrapped with a bandage for several days. Discomfort from surgery is typically resolved after one week, and patients are fully functional. Swelling and bruising will dissipate within two weeks. We recommend avoiding contact sports where the ears can be traumatized for six months.

The most common form of otoplasty is performed to pin protruding ears back. However, other otoplasty techniques allow reducing the size of the ears. This version of the procedure requires different incision placements and necessitates cartilage incisions.

It is true that the ear lobules elongate as individuals age. Ear lobe shortening is a small surgical procedure where the lobule is cut shorter and repaired. This represents the least complicated form of otoplasty.

In younger patients and in older anxious patients, general anesthesia is recommended. Otherwise, local anesthesia with or without sedation is used.
Otoplasty Ear Surgery Patient Testimonial
Related Procedures
Otoplasty is usually a standalone procedure. Typically there are no other related procedures.
Click Here to See Otoplasty, Ear Pinback, Cosmetic Ear Surgery Photo Gallery