Facial Lipoma Removal
Small fatty tumors under the skin are called lipomas and are usually benign and harmless. However, when a lipoma appears on the face, it can detract from the aesthetic appearance and become a nuisance. The best option for treating a lipoma is surgical removal, but this procedure must be carefully performed to reduce the appearance of scar tissue that can also detract from the beauty of the face. Dr. Maurice Khosh is an experienced Manhattan facial plastic surgeon that offers facial lipoma removal for the benefit of his patients.
What Are Lipomas?
Lipomas are pockets of fatty tissue that can grow almost anywhere on the body. They are soft and can be moved with a finger, ranging in size from the circumference of a little coin to as large as a tennis ball. There is usually no medical reason to have a lipoma removed, they are not normally cancerous, but facial lipomas can be disfiguring. Surgical removal can restore the normal appearance to the skin and face, but it is important to have a plastic surgeon perform this procedure to reduce the chance of scarring.
Dr. Khosh has spent many years practicing specialized facial plastic surgery procedures, from cosmetic nose jobs to reconstructive operations. As a double board certified facial plastic surgeon, Dr. Khosh has the credentials that are preferable for any facial cosmetic surgery, plus the extensive experience and excellent reputation for the desired results. His use of specialized techniques to minimize scarring and improve healing can improve the results of facial lipoma removal and limit any noticeable aftereffects of the surgery.
Why Do Lipomas Occur?
Most people who have lipomas are between the ages of forty and sixty. Lipomas grow slowly and usually are not painful unless they impact a nerve. The exact cause for lipomas is not known, but those with a family history of these growths are more likely to have a lipoma occur. There are some diseases that are linked to higher risk for lipomas, including Cowden syndrome, Madelung's disease, adiposis dolorosa and Gardner's syndrome. However, anyone can have a lipoma appear for no apparent reason and lipoma removal does require a physician's assistance.
Surgical Removal of Facial Lipomas
Lipomas are generally not painful and pose no health risk, yet they can grow large and become unsightly, especially when on the face. Surgery is required to remove the fatty tissue. However, this is usually an outpatient procedure. In most cases, the area around the lipoma can be numbed with a local anesthesia and careful incisions can be used to expose the growth and it can be removed. However, to reduce the chance of scarring, specialized techniques need to be used.
Dr. Khosh has extensive experience in facial plastic surgery and understands the best methods to hide and reduce scarring on the face. Placement and the types of incisions used when removing a lipoma can make a dramatic difference the appearance of the scars after the surgery site heals. Dr. Khosh uses his skill and artistry to effectively remove the lipoma while leaving as little evidence as possible on the skin; often it is almost impossible to see the scars where the procedure occurred.
If you have a lipoma that is on your face and you wish to explore removal options, Dr. Khosh in Manhattan is your source for excellence in facial plastic surgery. Schedule a consultation at our office to meet with Dr. Khosh. He can examine your lipoma and go over the removal options available to minimize a residual scar and improve your overall appearance. Contact us today to schedule your appointment.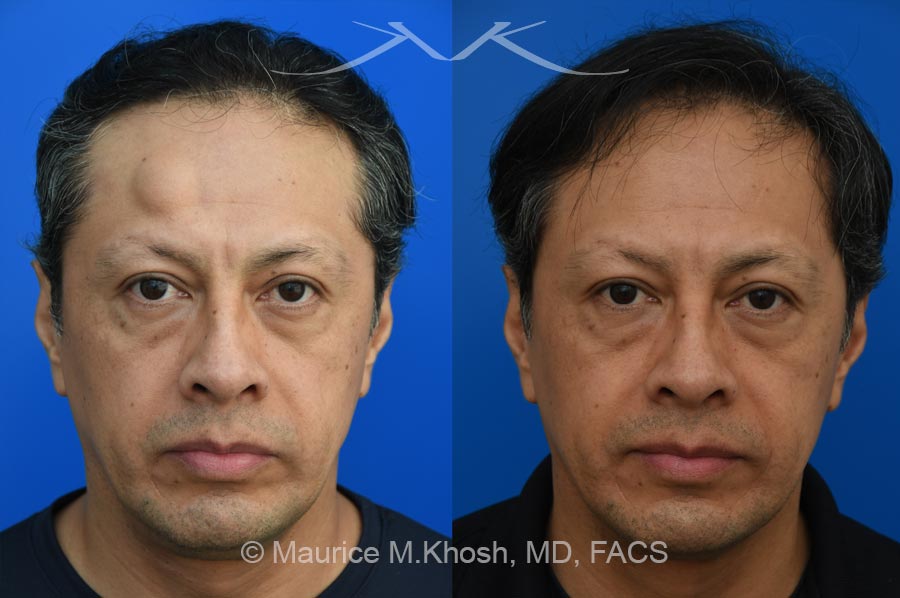 Click Here to See Face Lift, Neck Lift Photo Gallery