NYC Facelifts and Facial Rejuvenation
Dr. Maurice Khosh is one of New York's most renowned facelift surgeon specialists. Dr. Khosh is known for producing the most optimal facelift surgery outcomes and excellence in facelift revision surgery.
Sagging neck skin, jowls and wrinkles in the lower face can hide an energetic and cheerful you. Factors such as genetic predisposition, sun damage, smoking and weight fluctuation can affect facial aging.
Although cosmetic procedures such as Botox injections, laser treatments and filler injections can improve skin texture and smooth wrinkles, facelift surgery is the most comprehensive and durable procedure for rejuvenating the face. During NYC facelift surgery, sagging facial muscles are re-suspended, excess fat is removed from the neck and wrinkles and jowls are made smooth.
Facelift Surgery Options
Facelift surgery has evolved significantly in the past thirty years. There are now several variations of the procedure available to you. Dr. Khosh, NYC facelift specialist serving Brooklyn, the Upper East Side and the surrounding areas, offers the following options for rejuvenating your face and giving you back a more youthful appearance.
Deep Plane Facelift
This long-lasting treatment is an option from Dr. Khosh in Manhattan. This complex surgery should only be performed by a specialist cosmetic surgeon. Treatment involves surgery that is designed to manipulate fat and muscle tissue, providing a dynamic result for the patient. There are higher risks associated with deep plane facelifts, which is why this option is best suited for patients seeing an NYC facelift specialist such as Dr. Khosh.
Unlike less invasive facelifts, a deep plane facelift allows the surgeon to use a broader range of techniques as a part of the treatment. It is important that the surgeon understands potential issues associated with nerve damage and scar tissue. Dr. Khosh, NYC facelift surgeon, knows how to mitigate such risks without compromising the positive benefits of deep plane facelift surgery. If you would like to learn more about the procedure or other treatments offered by Dr. Khosh, call our offices in Manhattan today.
Midface Lift Surgery
The midface is a prominent focal point of the face. Any aging or skin defects are easily noticed, which is why more people are looking to midface lift surgery for rejuvenation. Just as traditional facelift surgeries address smoothing out the skin around the eyes and above the brow, midface surgery has a similar impact below eyes, around the cheeks and nose.
Dr. Khosh has a deep understanding of facial symmetry, allowing him to perform a midface lift surgery that creates excellence in the definition of key facial features. Patients can present old photos as a template or trust in the skills and expertise of Dr. Khosh as one of the most accomplished NYC facelift cosmetic surgeons in Manhattan. If you have any questions about midface lift surgery, we invite you to book a consultation with Dr. Khosh at his office today.
Mini Facelift Surgery
You do not need to wait until signs of aging are clearly visible before considering NYC facelift surgery. For patients who wish to consistently maintain a youthful look, mini facelift surgery is a cost-effective approach that will achieve optimum results. Dr. Khosh can provide mini facelift surgery to patients who wish to make minimal improvements that are designed to enhance aesthetics and slow down the hands of time. Mini facelift surgeries primarily address the creeping signs of aging, such as wrinkles around the midface area.
This type of procedure results in minimal scarring and faster recovery times for patients with busy lives. If you value looking and feeling young, this treatment may be the answer that you need. Dr. Khosh, NYC facelift surgeon, will provide all the relevant details of the procedure, including aftercare needs, at the time of consultation. If a mini facelift surgery sounds like a procedure that would provide the results you desire, reach out to the offices of Dr. Khosh in Manhattan.
Non-Surgical Facelift
Using injectable liquids, Dr. Khosh can provide a non-surgical facelift option that is faster and much less invasive. There is minimal downtime and less risk than with surgical options, which is ideal for patients who need an effective solution to lines and wrinkles. This treatment is suitable for most men and women, subject to a private consultation with Dr. Khosh at his Manhattan offices. There have also been a number of innovations in non-surgical injectables over recent years, giving patients access to a broader range of treatment options than ever before.
In order to determine whether a non-surgical facelift is a viable option, take the time to consult with a New York specialist cosmetic surgeon. Dr. Khosh has the training and certification required to deliver excellence in cosmetic improvements using liquid injectables. Your new youthful look is only a phone call away when you contact the offices of Dr. Maurice Khosh.
NYC Revision Facelift
Many people immediately think of a bad outcome when they hear the words revision facelift. It is true that when most people make reference to revision facelift surgery they are in fact referencing a poor outcome; however, revision facelift also refers to repeating the procedure in someone who has previously had a good outcome but has aged again. This type of procedure can be more challenging than a virgin facelift due to the presence of scar tissue and violation of tissue planes from prior surgery. Dr. Khosh is a skilled New York facial cosmetic surgeon who offers excellence to patients that have previously had successful facelift surgery but have now aged and want to discuss new options.
The second type of NYC facelift revision is for patients who are not pleased with a recent procedure. If you have experienced a botched facelift that has impacted the appearance and symmetry of one or more facial features, Dr. Khosh wants to hear from you today. The term "revision facelift" applies to techniques that are used to reverse errors from previous treatments or surgeries. It is important that these procedures are carried out by a specialist surgeon who can assess the damage and choose the right techniques for correction.
You may have received midface lift surgery that was performed using an incorrect procedure. These surgeries can result from scenarios such as a cosmetic surgeon using traditional facelift techniques for a midface lift surgery. In essence, Dr. Khosh will use the correct technique to revise the surgery and deliver the originally desired results for the patient. You will need to attend a consultation so that Dr. Khosh, NYC facelift expert, can fully assess your needs and discuss corrective actions.
SMAS Facelift
The layer of tissue below the skin, known as the superficial musculoaponeurotic system (SMAS), presents a number of challenges for cosmetic surgeons. However, performing surgery at this level allows specialist cosmetic surgeons to offer longer-lasting solutions to rejuvenation patients. As one of the most accomplished NYC facelift specialists in Manhattan, Dr. Maurice Khosh is able to perform SMAS facelifts while reducing associated risks. Patients can find out if they are viable candidates through a private consultation with Dr. Khosh.
The main purpose of SMAS facelift procedures is to offer rejuvenation that lasts longer and allows the surgeon to combine more effective techniques. The results are features that retain symmetry with each other, enhancing the overall aesthetics of the face. If you are ready to explore surgical options that provide the greatest potential for long-lasting cosmetic improvement, speak to a member of Dr. Khosh's team at his New York office today.
Ultherapy
Ultherapy is a system and series of associated techniques that uses ultrasound to help smooth out lines and wrinkles from the neck, chin and eyebrow areas. As a non-surgical treatment option, there is zero downtime involved in Ultherapy. The results from Ultherapy will largely depend on the severity of lines and wrinkles. As a process, Ultherapy is designed to promote the production of natural collagen without the need for surgical or other intrusive cosmetic interventions.
Collagen production slows down as we age. However, the process can occur faster in certain people, leading to skin appearing to have aged prematurely. Ultherapy provides those patients with a treatment option that rebalances collagen production to help the skin regain its natural strength and elasticity.
No matter which option you and Dr. Khosh decide upon, the aim is to restore a youthful, natural-looking facial appearance. Patients often note looking ten or fifteen years younger. A NYC facelift operation can help you appear as healthy and vivacious as you feel inside. Additional procedures such as Botox injections, blepharoplasty, laser skin resurfacing, brow lifts, chin implants and fat transfers can be combined with the NYC facelift operation to further enhance your results.
Contact our practice today to schedule your personal consultation with Dr. Maurice M. Khosh at his New York office.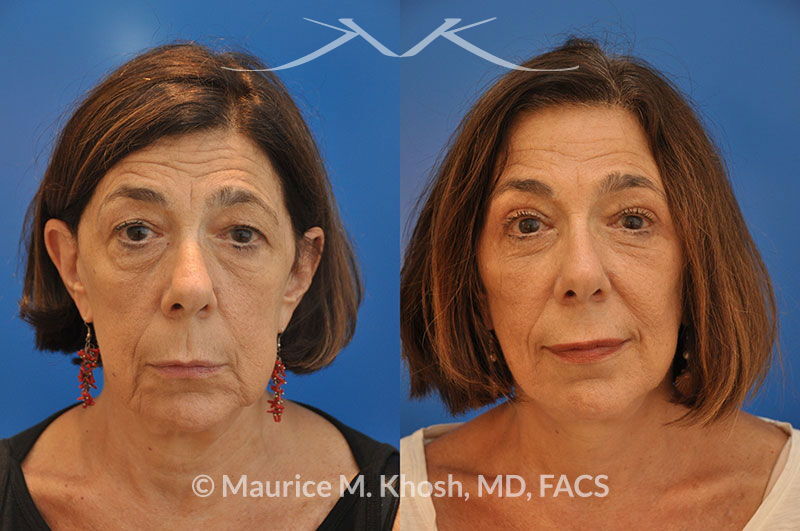 Frequently Asked Questions About Facelifts
Patients in relatively good health who want improvement of jowls or droopy appearing neck. Those with well-developed jaws, high cheekbones, and elastic skin tend to have better results from surgery.

Patients who require blood thinners, or those with poorly controlled blood pressure or diabetes. Face lift operation should not be performed on those who are active smokers. Significantly over weight patients, and individuals with significant loss of skin elasticity tend to have limited results from a face lift operation.

In most instances, Dr. Khosh recommends general anesthesia or deep sedation for face lift surgery. Short scar face lift (mini face lift) surgery can be safely performed under local anesthesia.

A better question would be: How many years will a facelift operation take off from your face? In general, face lift surgery will make you look ten to fifteen years younger.

The incisions start in front of the root of the ear and extend inside the ear, then reach around the attachment of the earlobe to the face, and finally curve behind the ear. Occasionally the incision behind the ear is extended onto the scalp skin. Once fully healed, the incisions will be unnoticeable.

Your face will be wrapped with cotton and gauze dressing for one day. Dr. Khosh will remove the dressing after a day and supply you with a special Velcro bandage to be worn for one week. You may shower on the second day after surgery. Most patients do not require narcotic pain medication past the third day. Sutures are removed on the fifth and tenth post-operative days. Bruising and swelling, will last for about fourteen days. You may feel tightness in the neck and numbness around the incisions. It will take many weeks to achieve the final results, but most patients can return to full social and physical activity at three weeks.

It is not uncommon that as a result of aging, there is loss of bone mass from the lower and upper jaws. Volume loss in the lower jaw can exacerbate fullness in the neck. A chin implant adds definition to the jaw and improves the face lift results in the neck.

The face lift operation will tighten skin, re-suspend the muscles in the face, and remove excess fat in the neck. Other age related skin changes such as discolorations and superficial skin imperfections would be corrected with a laser treatment. Therefore, a combination of the two procedures will rejuvenate the face in a superficial and deep manner.

A face lift operation will rejuvenate the mid to lower face, and the neck. People who have descent of the brow will benefit from brow lift to rejuvenate the upper face. The two procedures can be performed during the same operation. During a face lift consultation, Dr. Khosh will examine you and discuss the suitability of a brow lift in your individual case.
Related Procedures
Facelift surgery allows rejuvenation of the mid to lower face and the neck area. There are other cosmetic treatments that may complement a facelift operation by rejuvenating other areas of the face. Brow lift or blepharoplasty procedures will help rejuvenate the upper face to give the entire face a revitalized appearance.
Lip augmentation adds vitality and liveliness to the face and is beneficial to patients who desire facial rejuvenation. Fat grafting can enhance facelift results, particularly in the medial upper cheeks and the lower orbital region. Fractional laser treatments are a wonderful way of refreshing the facial skin tone and color and erasing patchy discolorations.
Botox treatments can help erase fine lines around the eyes and the forehead. In properly selected patients, chin implants can create a better contour to the neck and the jaw line. During a consultation visit, Dr. Khosh will review any appropriate secondary procedures that may enhance your facial rejuvenation goals.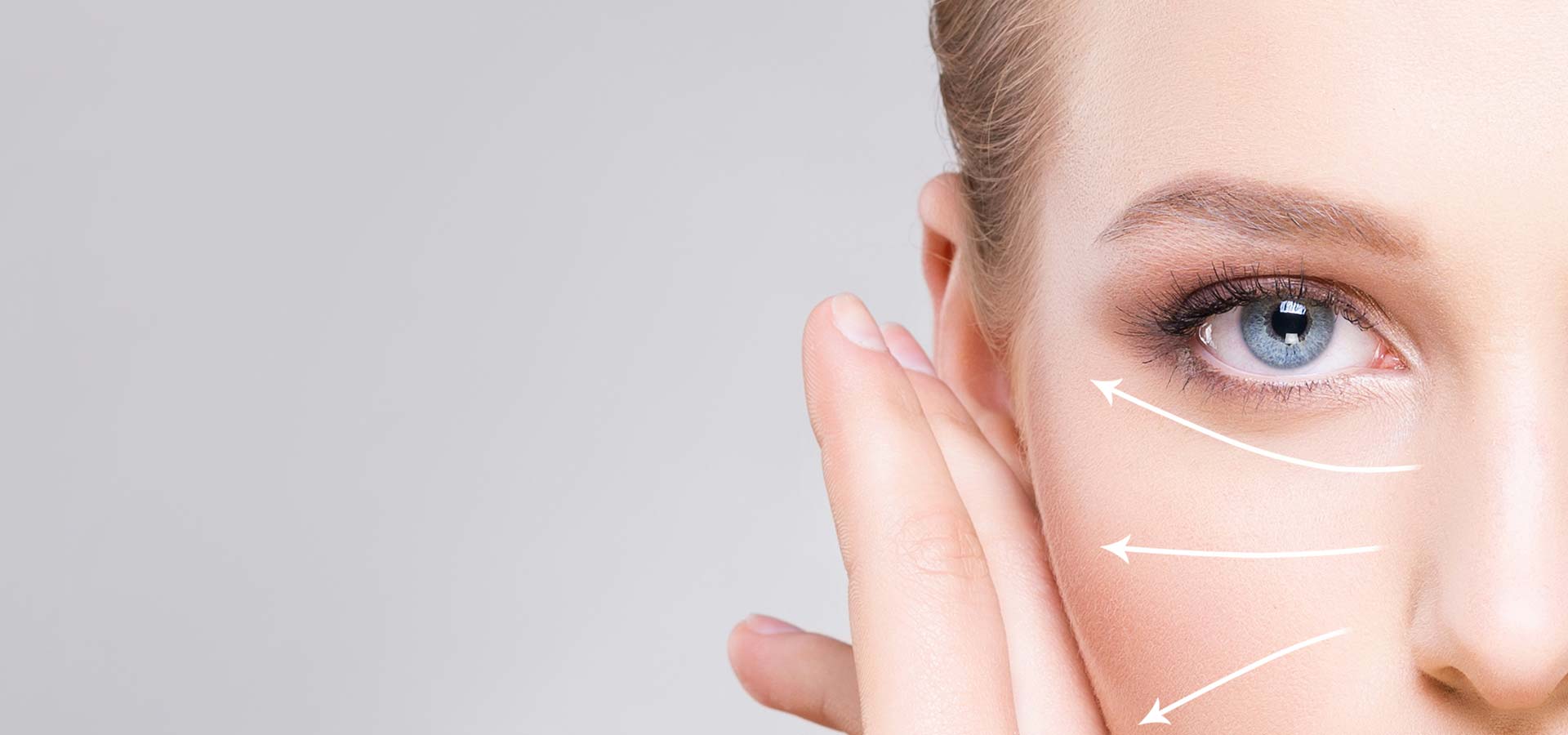 Click Here to See Face Lift, Neck Lift Photo Gallery