Facelifts and Facial Rejuvenation
Dr. Maurice Khosh is one of New York's most renowned facelift surgeon specialists. Dr. Khosh is known for producing the most optimal facelift surgery outcomes and he is also known for excellence in facelift revision surgery. Sagging neck skin, jowls and wrinkles in the lower face can belie an energetic and cheerful you. Factors such as genetic predisposition, sun damage, smoking and weight fluctuation can affect facial aging. Although cosmetic procedures such as Botox injections, laser treatments and filler injections can improve skin texture and smooth wrinkles, a facelift surgery is the most comprehensive and durable procedure for rejuvenating the face. During a facelift surgery sagging facial muscles are re-suspended, excess fat is removed from the neck and wrinkles and jowls are made smooth.
Facelift Surgery Options
Facelift surgery has evolved significantly in the past thirty years. There are now several variations of the procedure available to you. Dr. Khosh offers the following options for rejuvenating your face and giving you back a more youthful appearance:
No matter which option you and Dr. Khosh decide upon, our aim is to restore a youthful, natural-looking facial appearance. Patients often note looking ten or fifteen years younger. A facelift operation can help you appear as healthy and vivacious as you feel inside. Additional procedures such as Botox injection, blepharoplasty, laser skin resurfacing, brow lift, chin implant and fat transfer can be combined with the facelift operation to further enhance your results.
Contact our practice today to schedule your personal consultation with Dr. Maurice M. Khosh.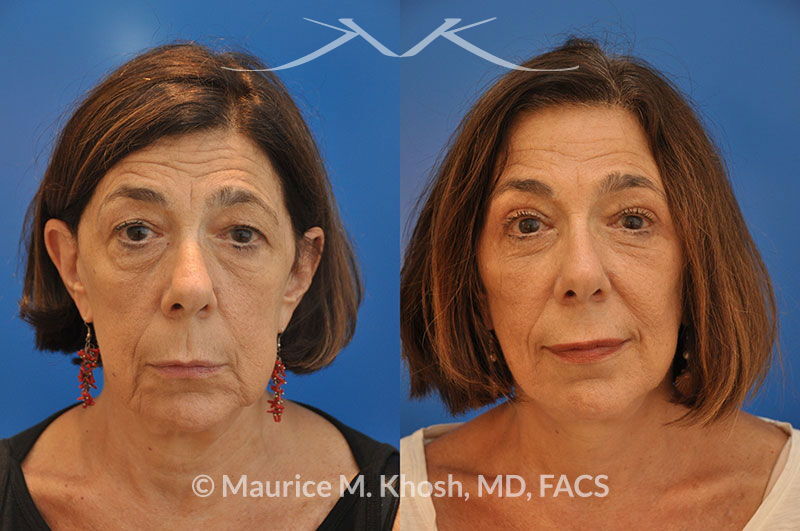 Frequently Asked Questions About Facelifts
Patients in relatively good health who want improvement of jowls or droopy appearing neck. Those with well-developed jaws, high cheekbones, and elastic skin tend to have better results from surgery.

Patients who require blood thinners, or those with poorly controlled blood pressure or diabetes. Face lift operation should not be performed on those who are active smokers. Significantly over weight patients, and individuals with significant loss of skin elasticity tend to have limited results from a face lift operation.

In most instances, Dr. Khosh recommends general anesthesia or deep sedation for face lift surgery. Short scar face lift (mini face lift) surgery can be safely performed under local anesthesia.

A better question would be: How many years will a facelift operation take off from your face? In general, face lift surgery will make you look ten to fifteen years younger.

The incisions start in front of the root of the ear and extend inside the ear, then reach around the attachment of the earlobe to the face, and finally curve behind the ear. Occasionally the incision behind the ear is extended onto the scalp skin. Once fully healed, the incisions will be unnoticeable.

Your face will be wrapped with cotton and gauze dressing for one day. Dr. Khosh will remove the dressing after a day and supply you with a special Velcro bandage to be worn for one week. You may shower on the second day after surgery. Most patients do not require narcotic pain medication past the third day. Sutures are removed on the fifth and tenth post-operative days. Bruising and swelling, will last for about fourteen days. You may feel tightness in the neck and numbness around the incisions. It will take many weeks to achieve the final results, but most patients can return to full social and physical activity at three weeks.

It is not uncommon that as a result of aging, there is loss of bone mass from the lower and upper jaws. Volume loss in the lower jaw can exacerbate fullness in the neck. A chin implant adds definition to the jaw and improves the face lift results in the neck.

The face lift operation will tighten skin, re-suspend the muscles in the face, and remove excess fat in the neck. Other age related skin changes such as discolorations and superficial skin imperfections would be corrected with a laser treatment. Therefore, a combination of the two procedures will rejuvenate the face in a superficial and deep manner.

A face lift operation will rejuvenate the mid to lower face, and the neck. People who have descent of the brow will benefit from brow lift to rejuvenate the upper face. The two procedures can be performed during the same operation. During a face lift consultation, Dr. Khosh will examine you and discuss the suitability of a brow lift in your individual case.
Related Procedures
Face lift surgery allows rejuvenation of the mid to lower face and the neck area. There are other cosmetic treatments which may complement a face lift operation by rejuvenating other areas of the face. Brow lift or blepharoplasty procedures will help rejuvenate the upper face to give the entire face a revitalized appearance. Lip augmentation adds vitality and liveliness to the face and is beneficial to patients who desire facial rejuvenation. Fat grafting can enhance the face lift results particularly in the medial upper cheeks and the lower orbital region. Fractional laser treatments are a wonderful way of refreshing the facial skin tone and color, and erasing patchy discolorations. Botox treatments can help erase fine lines around the eyes and the forehead. In properly selected patients, chin implants can create a better contour to the neck and the jaw line. During a consultation visit, Dr. Khosh will review any appropriate secondary procedures that may enhance your facial rejuvenation goals.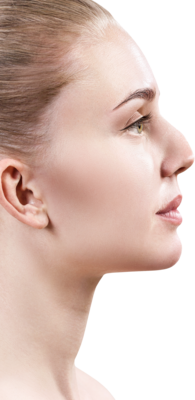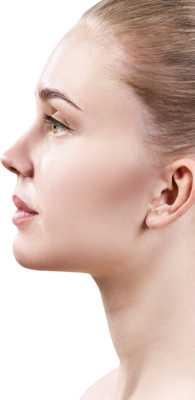 Click Here to See Face Lift, Neck Lift Photo Gallery