Facial Fracture Repair
Facial fractures can arise from accidental falls, sports injuries, motor vehicle accidents, or assaults. Most facial fractures require repair due to their aesthetic and/or functional effects. Nose fractures are by far the most common form of facial fractures. Other facial bones such as the forehead, cheekbones, orbital bones, or jawbones may also be fractured or dislocated from trauma and may require facial reconstructive surgery. Severe facial injuries require emergency evaluation to assess the extent of injuries and to rule out concomitant injuries to the eye, brain, or neck. Primary surgical management of facial fractures is often delayed by seven to ten days to allow the reduction of the initial swelling in soft tissues.
Facial Fracture Surgery
Radiographic (CT scan) examination of the face allows precise evaluation of bony injuries and is commonly performed during an initial ER visit. Dr. Khosh treats both primary facial fractures and secondary deformities from old facial injuries. Nasal fractures are the only type of facial fracture that can be repaired in an office setting under local anesthesia. Other types of facial fractures require repair in the operating room. Dr. Khosh works closely with other specialists such as ophthalmologists, dentists, oral surgeons, or neurosurgeons to ensure comprehensive care for individuals with more severe facial fractures.
Dr. Khosh utilizes the most modern surgical techniques and specialized instrumentation to repair facial fractures via hidden incisions inside the mouth, eyelid, or hairline, thereby eliminating any visible scars. Secondary facial reconstruction for old fractures can restore forehead or cheekbone depressions, sunken eyeball position, or a displaced jawbone with malocclusion. Bone grafts or inert implants are occasionally used in more serious fractures.
Contact our office today to schedule a consultation with Dr. Khosh or for answers to any questions you may have about this type of procedure.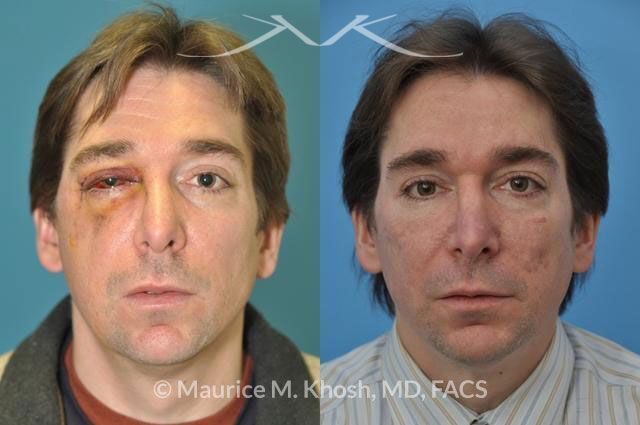 Frequently Asked Questions
Acute nasal fractures may be repaired under local anesthesia during an office visit. All other facial fractures, and secondary repair of nose fractures are best performed under general anesthesia or deep sedation in an operating suite.

The optimum time for repair of facial fractures is about one week after the injury. This will permit the initial swelling to subside. Waiting beyond two weeks following injury can lead to improper healing of bone fragments, and may necessitate re-breaking the bones to permit proper alignment.

Le Fort classification of mid facial fractures is based on the work of Rene Le Fort, a French anatomist during the late 18th century. Mid face fractures can be broadly classified into three groups. Le Fort I fractures involve the lower portion of the maxilla. Le Fort II fractures involve the junction of the nasal bones and maxilla. Le Fort III fractures cause separation of the mid face from the skull bones.

Numbness following cheek fractures is relatively common. Cheek fractures often involve the bony channel through which the sensory nerve of the cheek travels. If the nerve is not severed due to trauma, the prognosis for return of sensation is quite good.

A sunken eye can develop following an eye socket fracture. The cause is loss of supporting fat, or an increase in the volume of the eye socket due to bone misalignment. A sunken eye can lead to double vision. Surgical correction involves augmentation of the orbital volume with bone grafts or implants.

There are two treatment options. One is repeat surgery to augment the area with a bone graft. The other choice is fat transfer to augment the cheek soft tissues as a way of camouflaging the bony deficit.
Related Procedures
The majority of facial fractures can be repaired with completely hidden incisions inside the mouth or inside the eyelids. Scars from the traumatic facial injury can often be improved with scar revision or laser skin treatments. Fat grafting is occasionally used to improve facial contour following surgical repair of facial fractures.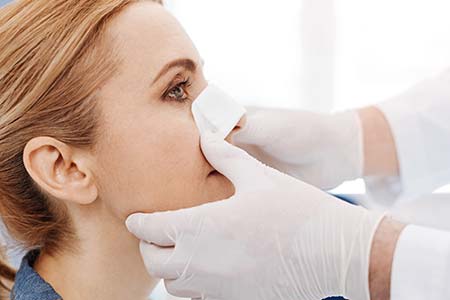 Click Here to See Broken Nose Repair, Facial Fracture Repair Photo Gallery