Keloid Scar Treatment
Every skin wound heals by forming a scar. Scars can be delicate and imperceptible or large and unsightly. Wound healing and scar formation depends on several factors, including: size and location of the injury, mechanism of the injury, age of the patient and genetic predisposition to keloid or hypertrophic scar formation. African Americans and Asians have a greater predisposition to developing hypertrophic or keloid scars. In fact, deeply pigmented people of all races are more prone to keloids than those with fair skin and may require facial reconstructive surgery. The skin of the ears, the jaw line, the shoulders and the central chest is especially predisposed to keloid formation.
Keloids and hypertrophic scars can be troublesome not only due to their aesthetic effects, but also due to functional disturbance they may cause. Hypertrophic scars are wide, thick scars that grow within the borders of the original incision. Keloid scars, on the other hand, grow beyond the confines of the original skin incision or scar. Keloids can grow to become massive, causing emotional harm and functional damage in affected patients.
Keloid Scar Removal
Hypertrophic scars are treated with steroid injections, coverage with silastic sheets, surgical removal, or a combination of these remedies. In general hypertrophic scars are easier to manage, and have a lower risk or recurrence. Keloids have a greater chance of recurrence. Keloids are managed by steroid injections when they are very small. Larger keloids require surgical removal followed by steroid injections. Recurrent or large keloids may require surgical excision followed by radiation therapy.
Dr. Khosh is an expert in management of hypertrophic and keloid scars. He works closely with dermatologists and radiation therapists to offer a comprehensive and appropriate treatment for each individual patient. Dr. Khosh has been able to achieve outstanding success rates in eliminating hypertrophic and keloid scars using meticulous surgical technique and appropriate secondary treatments. Please contact us for a private consultation to address your concerns regarding hypertrophic scars or keloid scars.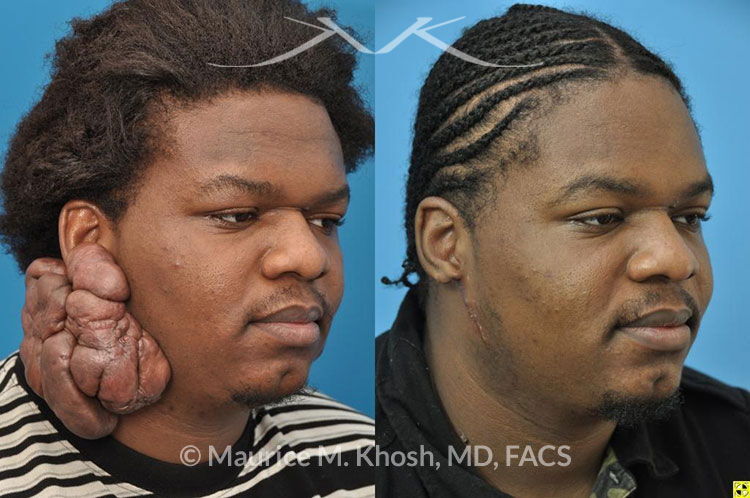 Frequently Asked Questions
The exact cause of keloids is not yet clearly described. The suspected problem is abnormalities in cell proliferation whereby the process of healing is not halted normally. Scar tissue continues to build, leading to large and unsightly scars. There are genetic factors that predispose patients to keloid scar formation. Hormonal factors also affect the risk of keloid formation. Because keloids tend to demonstrate accelerated growth during puberty or pregnancy and tend to resolve with menopause. Other hormones linked to keloid formation include thyroid hormone alterations and melanocyte-stimulating hormones.

This is a clinical decision that depends on the patient and the extent of the keloid. In general, three injections are recommended at one month intervals.

The pulsed dye laser has shown some benefit in treatment of keloids, through suppression of fibroblast proliferation.

There are widely reported success rates for treatment of keloids. Success rates vary from 50% to 90%. Keloid scars that have failed to resolve with standard therapies, such as excision and steroid injections, can respond to combination of surgical excision followed by radiation therapy.

Surgical excision is usually followed by one radiation session on the same day or the next day.

Hypertrophic scars are caused by excess tension across wounds. Other factors implicated in the etiology of abnormal scar formation include wound infection, a prolonged inflammatory response, and wound orientation different from the relaxed skin tension lines.

In patients who have keloids or history of keloids in their immediate family, it is advisable body piercing be avoided. In fact, all non-essential surgical treatments that violate the skin should be avoided.
Related Procedures
Keloids and hypertrophic scars are generally treated as stand alone procedures. Keloid treatment may require post surgical radiation therapy. In most cases, keloid and hypertrophic scars are treated with post surgical steroid injections on monthly basis.

Click Here to See Keloid Scar Reconstruction Photo Gallery