Male Rhinoplasty
The nose is a distinguishing male feature that can transform the entire face. When the nose is too large, it may overpower the other features, while a small nose can lack character or masculinity in some people's eyes. One of the top cosmetic or plastic surgeries performed for men and women alike is rhinoplasty, to reshape and resize the nose.
Rhinoplasty may be one of the most common male plastic surgery procedures, but it is not the simplest. In fact, nose revision or repair surgery is also one of the top plastic surgeries due to improper rhinoplasty procedures. The nose is not just an aesthetic feature, it also must be functional. Dr. Khosh has vast experience in both rhinoplasty and nose reconstruction, understanding the aesthetic value of a beautifully constructed nose and ensuring that his procedures will protect the nasal functionality.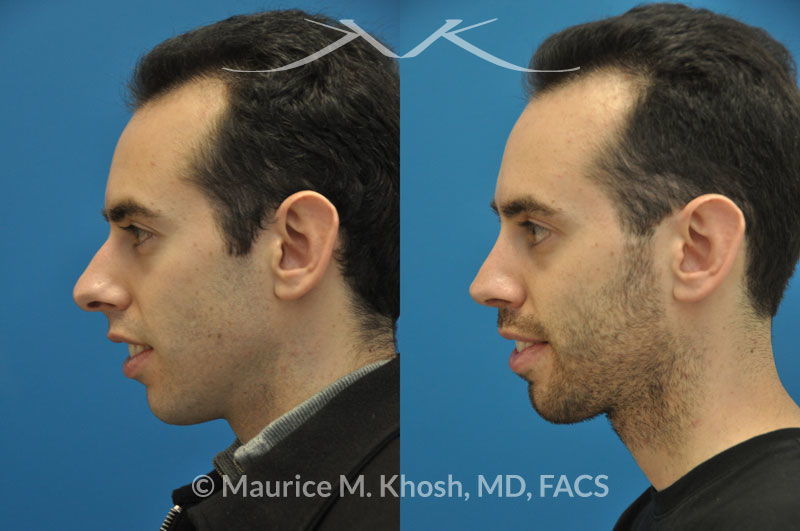 Male Nose Job
A great male nose job starts with the initial consultation with Dr. Khosh to determine the best plan to achieve the nose you have always wanted. Dr. Khosh will start with a thorough examination of your nose structure, nasal passages and sinus health, then listen to your concerns. Together, you will decide the nose shape and size that will best meet your expectations and enhance your appearance. You will learn more about what the procedure entails, what to expect during and after the surgery and the best strategy for quick recovery.
If you are ready to have the nose you wish you were born with, contact the office of Dr. Khosh today for your private consultation. Dr. Khosh is a dual board certified facial plastic surgeon with extensive experience in nasal plastic surgery, so your new nose will be in some of the best hands in the industry.

Click Here to See Rhinoplasty Photo Gallery