Lip Augmentation Procedures
One of the most commonly asked for lip procedures is an augmentation of the lips. Full lips are considered youthful and sexy by many people, especially those lacking volume in their own lips. Even those born with perfectly full lips can find that as they age they lose volume and become deflated, leaving them longing for the fuller lips of their youth.
There are several ways to augment the size of the lips through cosmetic surgery or other procedures. Dr. Khosh offers both permanent and temporary solutions at his office in Manhattan to give his patient's the beautiful full lips they desire. Temporary fillers such as Restylane and Juvederm are options, along with fat grafting and SMAS grafting procedures.
Lip Enhancement
Whether you are looking to create fuller lips or are looking to enhance the shape of your lips, Dr. Khosh can help you find the right solution. As a dual board certified facial plastic surgeon, Dr. Khosh only offers the most advanced and proven methods of lip enhancement. He will meet with you privately to discuss the lip fullness and shape you desire and give offer you the solutions that will give you the results you want.
If you desire a beautiful, sexy smile framed by full, youthful lips, contact Dr. Khosh today to schedule your private consultation. Your journey to new enhanced lips is just a phone call away!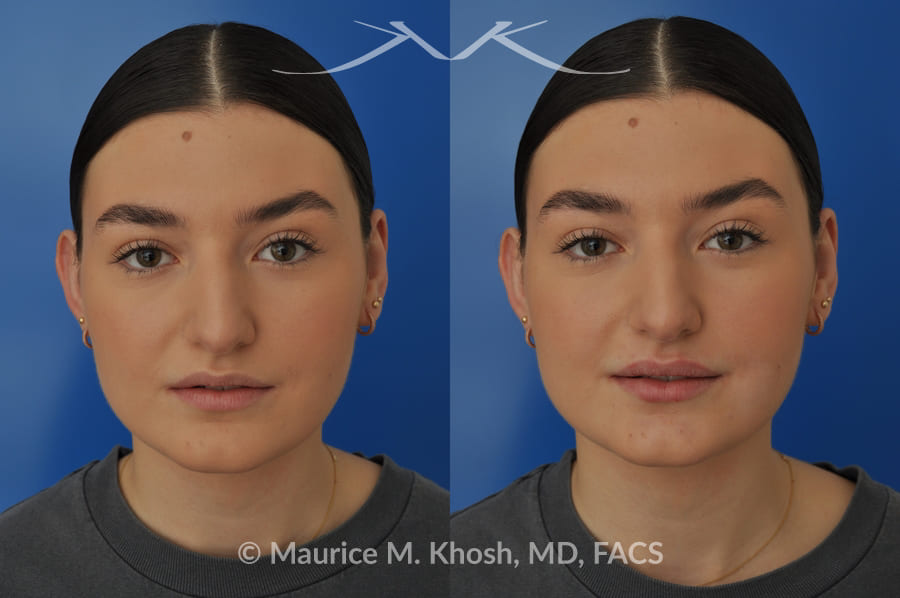 This young lady was interested in enhancing the appearance of her lips. She was noted to have small calibered and asymmetric upper lip. A hyaluronic acid filler (Volbella) was used to augment the upper and lower lips. Precise placement of the filler not only created fuller lips, it also allowed creation of symmetry in the upper lip.
Click Here to See Lip Enhancement Photo Gallery