Neck Lift Surgery
The skin and muscles under the chin and surrounding the neck often can begin to sag and droop with age. This loose skin can reduce the prominence of the chin, create a double chin or the infamous "turkey neck" that is associated with older adults. As part of our face and neck surgery options, a neck lift surgery can be used to reduce this excess and loose skin, smoothing and defining the neck and chin.
There are many different factors that are involved in a sagging neck, making it necessary to individualize every neck lift surgery. The amount of excess skin and fat, the laxity of the skin, banding of neck muscles and the chin proportion all can affect what type of neck lift is needed. Dr. Khosh has vast experience in performing neck lift surgeries customized to each of his patients to get the results they desire.
Direct Neck Lift
A direct or midline neck lift is typically reserved for patients who are only concerned with addressing their excess or sagging neck skin, namely the "turkey neck." Dr. Khosh performs a direct neck lift using the Grecian Urn technique in which the incisions are strategically placed in the midline of the neck to allow the effective removal of excess skin and fat. This technique can also tighten the platysma muscles (underlying neck muscles) to create a smoother, more contoured and youthful neckline.
The Direct Neck Lift is ideal for men who primarily want to correct their double chin or turkey neck appearance and are less concerned with jowls or cheek heaviness that would be addressed in a full facelift surgery. Older men tend to suffer most from the unwanted "turkey gobbler neck" and their thicker neck skin makes the midline incision less of a concern.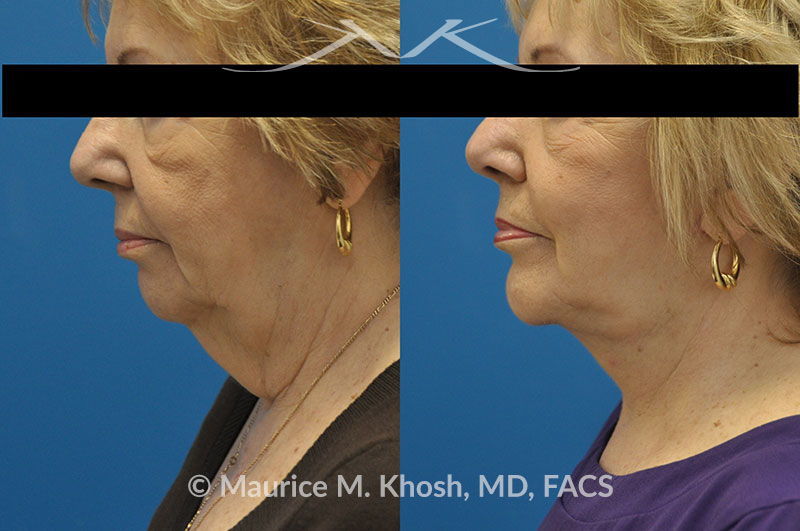 Neck Lift Accompaniments
Neck lifts are often used in combination with other cosmetic procedures. It is fairly rare that a patient will only want a neck lift and have no other work done on their face, chin or neck. Some of the common procedures that accompany a neck lift include chin implant surgery, face lift and neck liposuction. Dr. Khosh is experienced with all these procedures and can often do a few different procedures during one surgery to eliminate additional time spent under anesthesia.
If you are interested in improving the overall appearance of your neckline and chin due to excess or sagging neck skin, contact us today for a neck lift consultation with Dr. Khosh. The doctor will examine your neck and outline his recommendations for improving your neck and chin appearance through one of the many neck surgeries available.
Click Here to See Face Lift, Neck Lift Photo Gallery