New York Cauliflower Ear Treatment
If you are suffering from the health consequences or cosmetic imperfections of cauliflower ear, you can trust Dr. Maurice Khosh to resolve your concerns. He is an experienced facial plastic surgeon with distinguished expertise in ear procedures. Cauliflower ear is not a congenital ear deformity, but one that is typically acquired from blunt trauma to the ear. It often affects athletes in contact sports such as wrestlers, martial artists and boxers. Treating cauliflower ear is critical, both for the permanent health and function of your ear as well as its long-term aesthetics.
Dr. Khosh is a talented and skilled plastic surgeon that takes the time to understand your unique concerns and provide the most effective treatment options for your situation. Our New York office offers the latest techniques and innovative technology available to ensure your ear is restored to its most natural appearance.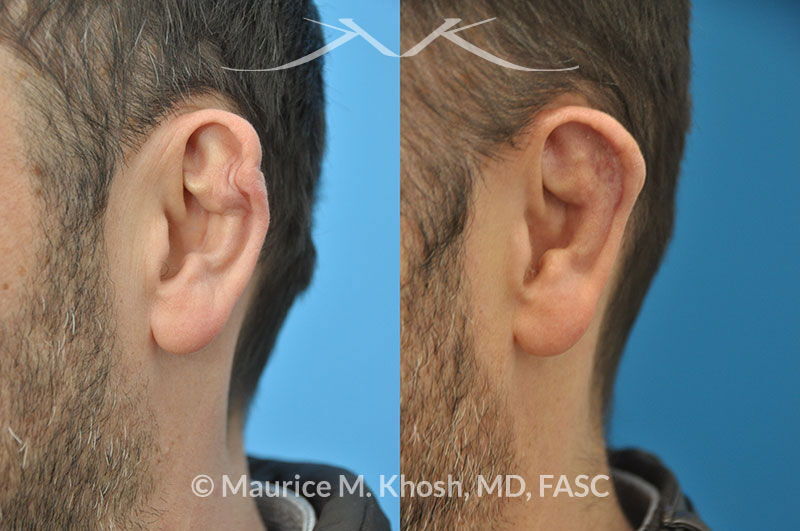 Symptoms and Causes of Cauliflower Ear
Cauliflower ear is often marked by symptoms such as pain, bruising, swelling and a pale, shriveled appearance. This traumatic ear deformity occurs when blunt trauma causes a hematoma on the ear, which essentially cuts off its blood supply and causes the cartilage to die. Patients are left with a deformity of the curvature of the ear, or a shriveled up ear appearance, because of this dying cartilage.
Athletes who are repeatedly hit in the ear are at high risk for cauliflower ear. If the fluid is not immediately drained, the results can be permanent. Dr. Khosh can repair cauliflower ear by grafting or shaving cartilage and restoring the ear to its normal shape and form. It may also be necessary to drain blood from the hematoma, treat any infection and reduce inflammation to facilitate the most successful treatment results. Cauliflower ear can be a very painful condition that can lead to hearing loss if not treated.
To learn more about our cauliflower ear treatment options, please contact our office in Manhattan today. Dr. Khosh treats many types of ear defects using advanced otoplasty techniques that restore the natural beauty and function of your ear.
Click Here to See Otoplasty, Ear Pinback, Cosmetic Ear Surgery Photo Gallery