Neck Liposuction
A well-defined neck projects understated elegance, youth and beauty. However, excess fat and sagging skin and muscle can make the neckline appear full, heavy and poorly defined. Neck liposuction can effectively remove undesirable fat from the neck area, restore definition to your face and provide a more youthful appearance. This face and neck procedure can be performed under local anesthesia as an office-based procedure or it can be combined with other facial rejuvenation treatments in an outpatient surgery setting.
During a consultation for aesthetic enhancement of the neck, Dr. Khosh will evaluate your neck and face. Based on his evaluation, Dr. Khosh will recommend the best treatment to achieve your cosmetic goals. In certain cases, liposuction can be combined with a neck lift or lower facelift to revitalize the neck. Also, in certain cases, Dr. Khosh may recommend a chin implant to add definition and elegance to the neck and lower face. Dr. Khosh will use computer imaging as a visual aid in demonstrating the benefits of each aesthetic procedure.
Contact us today to schedule a consultation with Dr. Khosh.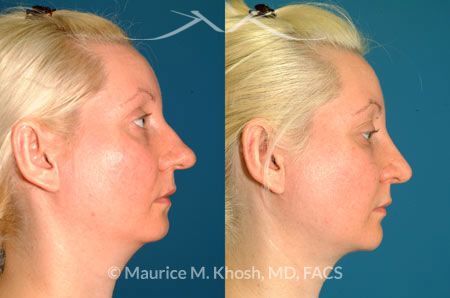 Frequently Asked Questions About Neck Liposuction
Recovery from neck liposuction is surprisingly uncomplicated. Most patients will not need pain medication after the third day. Bruising from the procedure fades after seven to ten days, and most patients can return to work within ten days.

Neck liposuction can be repeated without risk to overlying skin. In younger patients, the neck liposuction results easily last for over seven years.

Fat transfer is an excellent method of restoring volume to the face to soften and revitalize your look. In a typical fat transfer procedure, 10 to 16 cc of fat is injected. The volume of fat removed during neck liposuction is not enough for facial augmentation. I prefer harvesting fat from the abdomen or the thigh for facial rejuvenation.

Laser liposuction, like ultrasonic liposuction, is a method of disrupting the fat cells to allow easier removal during liposuction. These devices disrupt the fat cells by heating the tissue. Laser liposuction and ultrasonic liposuction entail increased risk when used in the neck. These versions of liposuction are mostly used for abdominal or body liposuction.
Related Procedures
Liposuction is an effective method of removing excess fat from the neck. In patients with small chins, placement of a chin implant will greatly improve the neckline. Some patients in this age category opt for simultaneous rhinoplasty to bring better balance to the face. In older patients with neck skin redundancy, skin tightening with either neck lift or facelift will be necessary to effectively rejuvenate the neckline. Some patients elect to undergo blepharoplasty to revitalize the mid and upper face while having neck liposuction.
Click Here to See Face Lift, Neck Lift Photo Gallery