Liquid Rhinoplasty in NYC
Have you ever thought about getting a nose job but hesitated because of the risks of surgery? Liquid rhinoplasty can help you improve your appearance without having to undergo a surgical procedure. As the best facial plastic surgeon for liquid rhinoplasty in NYC, Dr. Maurice Khosh can help reshape your nose to look its best. You can restore balance to your face and feel more confident about the way you look.
Non-Surgical Nose Job
A liquid or non-surgical nose job alters the size and shape of the nose by using injectable fillers. The dermal filler used will depend on your needs for nasal correction and your preferences. These hyaluronic acid-based fillers help restore volume and can last between six months to two years. Minor nasal imperfections like bumps and dents can also be corrected. This cosmetic procedure can take less than an hour using a topical numbing cream, and you may resume normal activities immediately.
Some swelling and bruising may be expected for up to two weeks. Any pain or discomfort during recovery can be treated with over-the-counter pain medication and ice packs. The minimal scarring from the procedure may be undetectable after full healing takes place. Additional dermal filler injection treatments may be needed in order to achieve your desired results. A liquid rhinoplasty may be combined with other cosmetic procedures to achieve total facial rejuvenation.
What Does Liquid Rhinoplasty Correct?
There are a few nasal issues that liquid rhinoplasty can correct to achieve an aesthetically pleasing appearance. If you do not like the results, the fillers can be removed without the need for surgery. This cosmetic procedure can help make a slightly crooked nose appear straighter. The dermal fillers can help smooth a dorsal hump, depending on the hump. If the dorsal hump is too large or thick, we may not be able to correct it using this cosmetic procedure.
Contour irregularities from a previous rhinoplasty may also be corrected. The non-surgical nose job may also raise a drooping tip to improve the shape of the nose. With liquid rhinoplasty, you can make your nose appear larger or smaller to balance out your face. The effect is an illusion, as there are no corrections to the bones and cartilage as with rhinoplasty surgery. Small indentations can be filled in to improve symmetry.
Ideal Liquid Rhinoplasty Candidates
The ideal candidate for liquid rhinoplasty wants to change their nose's appearance without exposure to the risks of surgery. Certain nasal deformities may not be correctable with liquid rhinoplasty. Individuals looking to repair a broken nose or correct breathing problems may not be good candidates. Liquid rhinoplasty may not be ideal for men and women that wear glasses. Glasses may not be worn for two weeks after the procedure to avoid too much pressure on the injected filler.
A consultation with a board-certified surgeon is required to determine if you are an ideal candidate. The surgeon will review your medical history and discuss all available treatment options with you. To be considered for the procedure, you must be a non-smoker in good health. Certain medical conditions may cause interference with healing, which may make liquid rhinoplasty less than ideal.
Book a Liquid Rhinoplasty Consultation
Small deformities in your nose can make you feel self-conscious about your appearance. If you are uncomfortable with the idea of surgery, contact double board-certified facial plastic surgeon Dr. Maurice Khosh for a consultation. During your appointment, Dr. Khosh will help you understand the process and risks of liquid rhinoplasty to help you decide if it is right for you. Book your liquid rhinoplasty consultation with Dr. Maurice Khosh today!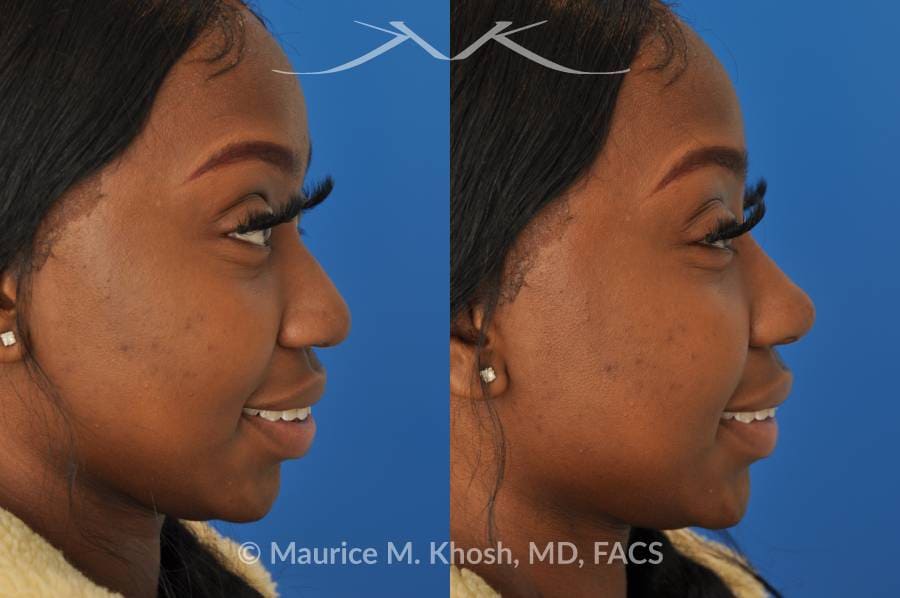 Click Here to See Liquid Rhinoplasty Photo Gallery